NEWS....NEWS....NEWS....
Only two and a bit weeks to go now until Flowers@Oxford and our 'Well Cool' Floral design Show. The show is the last one in five that have been working to raise money for a well and sanitation in Africa via WaterAid. The event will be held at the SAID Business School in Oxford, next to the station, on Saturday, 23rd August from 7pm to 9pm. You may by tickets online or at the door. You could tie this into your Flowers@Oxford weekend! Order your tickets here if you would be interested in joining the fun of the evening.
Flowers@Oxford, 22nd - 24th August - where the best of international designers will again come together to decorate, demonstrate, inspire and teach. We are running tours to Flowers@Oxford, and will be on a stand in the exhibition hall.
Tutors of Floristry or Horticulture - we run Educational Study Tours throughout the year and we can tailor tours to add in visits to gardens, auctions or wholesalers to enhance the learning experience. Please call Pat on 01225 913106, we are here to help you and to make tour planning easy!
Then there is the spectacular 'Fleuramour' at Alden Biesen, 26th to 29th September. We have places on one of our tours to the event and we are happy to pick up individuals en route so let us know if you would like to join this fun tour.
If you have a specific event in mind do not hesitate to contact us and talk through the options for tailoring to your needs.

WHY FLORAL TOURS?
The only group travel operator that specialises only in horticultural and floral tours
Over 14 years experience focused on tailoring floral and horticultural tours
We deliver top quality with a great price!
A personal, friendly service with new ideas for original itineraries
We specialise in tours and visits for Flower and Gardening Clubs, members of NAFAS and Plant Heritage, students of Floristry and Horticulture.
If you are planning a tour browse a selection of our options, or if you have your own itinerary planned then let us show you the options and help arrange a successful tour.
Please call Pat or Teresa direct on 01225 913106 to discuss the options for your tour and receive a personal, knowledgeable and friendly service; alternatively email info@floraltours.co.uk.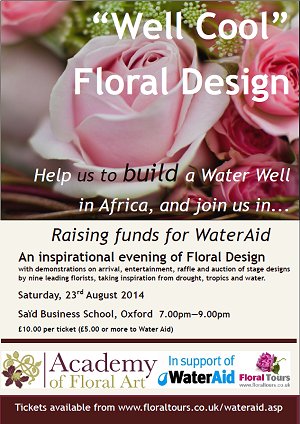 Only 2 weeks to go until our 'Well Cool' evening of Floral Design and entertainment in Oxford to raise funds for WaterAid.
A team of 10 committed volunteers are working together on the 'Well Cool' project to host five floral shows, raising money for Water Aid, to give people easier access to water and sanitation worldwide.
Four of these fantastic shows are complete and were held in Newton Abbot, Bristol, Norwich and Preston with the final one to be held in Oxford.
The final show in Oxford is organised by us, Floral Tours, and will be the grand finale with an evening of entertainment and floral artistry. Our event is being held at the Saïd Business School (SBS) of the University of Oxford to compliment 'Flowers@Oxford' which is the same weekend.
The shows are a completely new concept involving Master Florists, Chelsea Floristry medal winners and European Florists making floral designs on stage with music and lights to create a mood of Africa. At the end of the show the 9 stage designs will be auctioned off, complete, by Chelsea Gold Medalists, Patricia Thirion and Janet Honour from A Touch of France Garden Design.
You can purchase tickets from our website or at the door on the evening. We are really looking forward to a fun evening all in support of a good cause, see you there!